\
Electric Scissors ITEM # EC-1 / Price $107.79
Electric Scissors for Faster, Easier Cutting.
Multi Purpose Battery Operated Ergonomic Cutter helps to reduce wrist and hand strain. The EC-1 Electric Scissors cut fabric, patterns, leather, and paper quickly,
and can be used with or without a power cord. These Electric Scissors are industrial quality and have blades made of carbide steel and never need to be sharpened.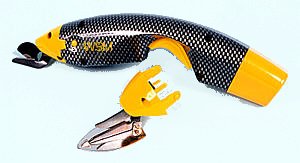 EC-1 Includes:
Electric Scissors
All Purpose Blade (used for straight quick cutting)
Shoe Blade (used for patterns and fabric)
Rechargeable D.C. Battery
AC Adapter (Transformer)
Charger
Power Cord
To Order Online, Check a Box then...add to your shopping cart
ALSO AVAILABLE ! My-T-Fine Electronic Cutter | ECONOMY CLOTH CUTTING MACHINES | Wiss Shears | Mundial Shears
Secure Shopping Cart by: VirtualCartŪ
Prices do not include freight.