Singer Model 20U83 (Straight and Zig-Zag Machine with Up to12mm Zig-Zag Stitching)
also available Singer 20U73 up to 9mm Zig-Zag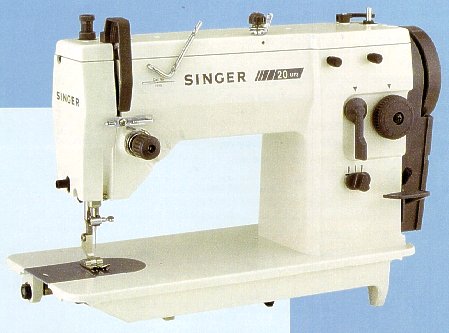 The 20U class machines have been in production for well over 20 years offering the versatility of medium speed straight stitching, zig-zag stitching, satin stitch embroidery and free-motion work.
The 20U class has also been designed for natural, synthetic fabrics and for light weight leather with perfect straight stitching with up to 12mm of zig-zag stitches.

The Knee lifter can be used to raise the foot or control zig-zag width.
Buttonholes are produced by means of right, center, and left needle positions. The needle bar frame locking clamp is engaged by a quick 1/4 turn of a knob.
With a built in bobbin winder and a hook that automatically advances and retards timing (according to zig zag width) the 20U class also incorporates an adjustable forward and reverse stitch length mechanism.

Zig zag plate, straight stitch plate, and embroidery/darning plate included.
Zig zag/satin stitch and straight stitch feed dog included.

Also Included: Straight-stitch foot | Zig-zag foot | Zipper foot | Manual buttonhole foot | Instruction Booklet
Now on Sale !

$668.99 Head Only
$848.99 Head with Knockdown Stand
$898.99 Singer 20U83 Fully Assembled*



The 20U83 uses needle system 1901
Head Only Includes:
Thread Stand, Bobbin Winder, Oil Pan/Knee Lifter, 5 Extra Bobbins, 10 Extra Needles, Instruction Manual, Screw Driver
and Machine Oil.
Complete Unit "Knockdown" includes Head with ...
Table top (size 48" x 20"), Heavy Duty Adjustable Legs,
1/2 HP motor 110 volt 1725 RPM, Sewing Draw, V Belt,
Sewing Light and Hardware.
Buy Extra Bobbins | Buy Extra Bobbin Case
* For complete units assembled contact us for a freight charge. Complete units cannot be shipped by UPS and must be trucked.


Phone; 845- 627-8873
Fax 845-627-6949
Home | Contact Us | Go Back